Meet Our Staff!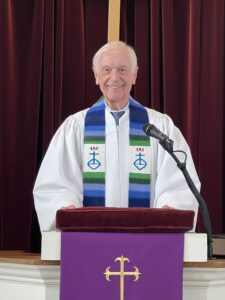 Pastor
 – Rev. Stanley Youngberg
Our Interim minister, Rev. Youngberg, joined Bethany First Church on April 1, 2022.  He preaches from the pulpit each Sunday, provides Pastoral care and support as well as helps the church prepare for our settled pastor search. 
Music Director
– Greg Wilfrid
We are pleased to welcome our new Music Director Greg Wilfrid. He joined us July 2023 and leads our music each week in service.  Come for service at 9:30 am on Sunday to listen to Greg's talents on the piano, our gorgeous Tracker organ or one of his other instruments like guitar!
Office Administrator
– Joanna Parlak
Our office administrator Joanna joined us in February 2023 and if you stop by the office during office hours, be sure to say hello!