Meet Our Staff!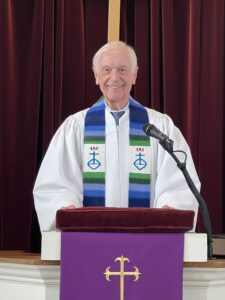 Pastor
 – Rev. Stanley Youngberg
Our new Interim minister, Rev. Youngberg, joins Bethany First Church on April 1, 2022, where he will be preaching from the pulpit each Sunday, providing Pastoral care and support as well as helping the church prepare for our settled pastor search.  Welcome Rev. Youngberg!

Music Director
– Bruce Modeen
Bruce has been music director at Bethany First Church since December 2016. In addition to serving this congregation, Bruce has led music at Hopeville Church (formally known as South Church Congregational) for 17 years. In former careers, Bruce has been a mechanic, a truck driver, and a member of several bands.
Bruce and his wife, Melanie, live in Waterbury with their daughter, Caitlin. They have been married since 1988, and have 6 children, 17 grandchildren, and 8 great-grandchildren between them.
Office Administrator
– Karolina Wojtysko